The Premier Top-Discharge IBC Liquid Shipping Container Liner System
The Air-Evac® Starfish™ liner is one of Arena's innovative flagship products and it is credited in the liquid shipping container industry as the premier liner of its type for maximizing manufacturing efficiencies and cost savings. When paired with the Arena A300 Shipper™, the Starfish™ liner offers significant advantages over competing products, especially for companies manufacturing high viscous products that range from 20,000 to 150,000 centipoise and above. For viscosities exceeding this range, Arena has engineered methodologies that are proven effective in minimizing discharge residuals.
Advantages of Arena's Top-discharge Liner System
The Arena Air-Evac® Starfish™ liner for liquid shipping containers is virtually a hands-free automatic top discharge system that reduces residuals without labor-intensive wringing, scraping or cleaning as is common with other like liner products. Operators no longer have to wrestle with bags to get product out which reduces chance of injury or accident. Since manipulating or hand-pulling on bags is eliminated, there is less likelihood of damaging bags – an advantage that maximizes cleanliness and minimizes risk of product contamination. The Starfish™ liner system operates on standard shop air that never comes into contact with the product, further lowering risk of contamination.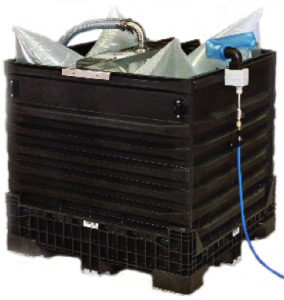 Other Liner Products:
A More Advanced Product Than Drum Liners & Other IBC Liquid Container Liners
The Arena Air-Evac® Starfish™ liner system makes old technology like barrel liners and many current intermediate bulk container liquid shipping liner systems obsolete. The unique geometries of this two-membrane system allows for fast set-up and easy discharge. It simplifies liner installation and residuals are minimized during final evacuation. The Air-Evac ®Starfish™ liner systems allows product to be drawn from the bottom of the bag with a dip tube and since the head pressure is focused on it, the operation is highly efficient because product continues to pool around the bottom of the dip tube.
There is a misconception in the liquid shipping container industry that bottom discharge liners work better because there is head pressure resultant from product being pushed towards the discharge outlet. The Starfish™ liner proves this perception wrong because with a dip tube, the head pressure is focused on it so that product continually pools around the bottom of the dip tube until final, maximum evacuation is effected.
Another misconception in the industry is that operator difficulty is increased with a top-discharge liner because it is more laborious to reach over and set a pump or dip tube into it. In reality, the opposite is fact. Arena Products offers a broad range of customized pumps, dip tubes and lifts that makes this process easy, safe and quick.
How The Air-Evac ® Starfish™ Liquid Liner System Works: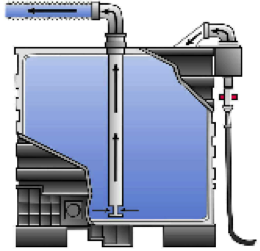 FAST, EASY DISCHARGE
Insert a discharge tube or pump through top port and spanner bar. Anti-suction geometry cathedral windows at the bottom of the tube prevent the liner from being drawn into the tube. Regulated shop air is attached to the inlet tube.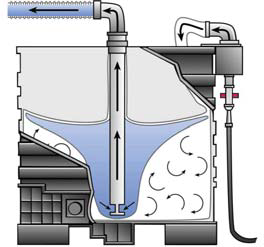 LINER INFLATION
As air is pumped into the Air-Evac Starfish liner, product is forced toward the center discharge tube. The Air-Evac liner inflates automatically as product is pumped out, reducing residuals and virtually eliminating waste. The configuration of the liner is what gives the Arena Air-Evac Starfish its name.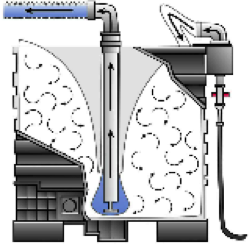 FINAL EVACUATION
Unique pockets continue to inflate and move product toward the discharge tube. As the inner liner collapses, product continues to pool in the center for complete discharge.
The liner-in-liner system prevents air and other contaminants from touching the product.
Arena Air-Evac® Starfish® Liquid Shipping Container Liner Specifications
3-Ply LLDPE standard
Food contact per 21 CFR176.170 Conditions D through G
Kosher
Cassetted with slip sheet
Maximum fill volume: 330 gallons (when used with Arena A330 Shipper™)
Tare weight of bag: 6.5 lbs. (3 kg)
5 per box – 90 per pallet
Air requirements: shop air @ 60-80 psi input
Manufactured with a cGMP, FSCC 22000 : 2015 certified process
Made in USA
Available with 2 inch and 3 inch standard fitments
Need More Information? Contact Us Today!