Our Bulk Cheese Experience Makes The Difference
At Arena Products, our roots in the cheese manufacturing industry run three decades deep. We were the first to collaborate with cheese manufacturers to engineer solutions that freed them from the burdens and limitations of plywood containers. We answered the challenge by introducing the Atlas 640 Cheese Shipper, the first all-plastic, knock-down USDA accepted cheese shipping container. The Atlas design delivers technical advantages customers convert into their own market success: a simple, sustainable solution generating increased economy, better efficiencies and improved sanitation.
Superior Design and Function In Bulk Cheese Containers
The ingenious design and function of the Arena Atlas 640 Cheese Shipper has set the standard of performance for bulk cheese packaging. It minimizes refurbishing costs, requires no re-coating between use, reduces shipping charges and cools product faster. It is lighter weight, easier to handle, assembles and disassembles simple and fast. The proprietary design of the Atlas-640 delivers greater overall strength and durability resulting in a longer lifespan and lower overall cost. Decades of actual use have documented it to be a dynamic product superior in every aspect to old-world wood containers.
Custom Packaging Solutions For The Cheese Industry
At Arena Products, our commitment to provide cheese manufacturers with the technical edge they need for success extends beyond supplying packaging solutions.  Our pre- and post-sale support services include in-plant visits that help us readily adapt existing equipment to best utilize our cheese container products. We then engineer a synergy that couples product with process to assure every customer receives the most custom, optimized system possible. When it comes to providing cheese manufacturers with real solutions, we leave nothing to chance.

Designed to replace wax-coated wood and stainless steel cheese containers, the Atlas 640 Cheese Shipper features a revolutionary knock-down design and tough engineering plastic construction that may actually change the way you think about making cheese.
Key Benefits: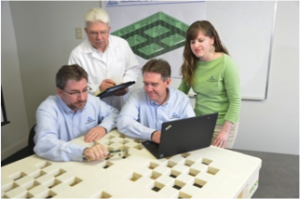 695-pound, 80-gallon capacity
Eliminates refurbishing
USDA approved
Reduces shipping costs
Improves sanitation
Less banding required
Fewer components to handle
Quicker cooling
100% recyclable plastic
The key advantage of the Atlas Cheese Shipper rests in its ability to completely eliminate the refurbishing cycle of plywood containers. Easily cleaned and requiring no re-coating between uses, the Atlas-640 can move directly from the cheese plant to the cutting plant and back again. Not only does this eliminate all outside refurbishing costs, but it can also reduce box inventory and streamline the entire shipping operation. Further, the low tare weight of 85 lb. and the 3:1 return ratio means improved shipping efficiency, whether it's full or empty. Reduced banding and parts consolidation reduce handling labor during assembly and disassembly.
The Easiest To Use Bulk Cheese Shipper
The proprietary side-wall interlock system eliminates the need for corner brackets, reduces banding and permits the use of plastic as opposed to metal banding. This allows boxes to be assembled and disassembled more quickly. Additionally, generous lead-ins on the Atlas hoop, pallet and cover aid in pallet, cover and springboard assembly as well as fork handling and stacking up to 4 units high. The Atlas automatic assembly fixture adds to the productivity benefits of the system.
The Bulk Container Designed Specifically For Cheese Manufacturers
The Atlas 640 Cheese Shipper is compatible with existing 640 direct fill operations and offers many advantages. The unique wall design has the strength to withstand the pressing process and the stiffness to minimize bowing and resulting trim scrap, while providing for quicker cooling. USDA and Wisconsin DATCP approvals permit whey recovery reducing critical phosphorus and chloride emissions and increasing whey revenues. The Atlas Plastic Press Board and stainless steel springs complete the sanitary package.
Versatility & Economy For 40 lb. Block Tower Operations
The Atlas 640 Cheese Shipper also adds value to 40 lb. block tower operations. Sixteen (16) 40 lb. blocks can be automatically collated into the Atlas, reducing packaging costs. By combining Atlas 640 packaging with state-of-the-art 640 exact weight cutting equipment, trim scrap and giveaway can be dramatically reduced vs. 40 lb. block cutting yields.
The Most Reusable, Recyclable, Responsible Bulk Cheese Shipper
Because the Atlas is made of rugged, recyclable engineering plastic, containers are durable enough for a long life. Ultimately, Atlas Shippers are an environmental and economic asset, not a liability. When it comes to refurbishing costs, shipping economics, productivity, sanitation, durability and environmental impact, there is no comparison between the Atlas and other wooden 640s. The Atlas 640 also outshines the competition when comparing investment costs, shipping and labor productivity.
Need More Information? Contact Us Today!