The Standard Of Performance In Collapsible, Plastic IBC's
The Arena A330 Shipper™ outshines other bulk containers in performance and versitility. As a transportation solution, it is the most cost-effective, reusable alternative to other bulk liquid handling options.
The Arena A330 Shipper™ Vs. 55 Gallon Drums
The Arena A330 Shipper™ produces marked gains in safety, efficiency and cost-savings versus traditional 55-gallon drums. Because the A330 is a larger volume container, a smaller number of them are required to move, fill and load product which reduces risk of mishap or accident. It's integrated, forklift-friendly design eliminates the need for costly pallets. Handling and transportation are simplified because there is not need to shrink-wrap containers for stability as is often required for 55 gallon drums.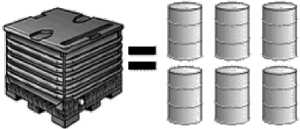 One fully loaded Arena A330 Shipper™ holds the contents of six metal drums in the same space required for four drums.
The A330 is a more efficient IBC with 78% of the external volume containing product.
It hold up to 3,000lbs./330 gallons of non-hazardous bulk liquids and up to 4,000 lbs of bulk product.
The A300 is a reusable tote designed for fast-turnaround, multiple use whereas many 55-gallon containers are single use products.
The A330 design minimizes product waste as compared to 55-gallon drums which can collect product and make discharge more difficult.
The A330 is made from recyclable plastics, making it more environmentally friendly since it reduces the cost and number of steel drums that are disposed of in the waste stream.
The A330 allows for re-use without testing for extended periods and because it is specifically designed for liquid containment, it is less susceptible to handling damage than steel drums.
Quality control and inventory management enjoy increased efficiencies because the A330 allows for easier logistics tracking and container usage history.
The Arena A330 Shipper™ Vs. Stainless Steel IBC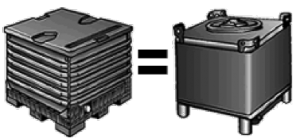 Lower initial investment for the Arena A330 Shipper™ than more expensive stainless steel tanks
Lower tare weight of A330 results in reduced outbound shipping costs
Significant reduction in return shipping costs because stainless steel totes are a fixed design while the A330 IBC is collapsible and more space efficient.
Cleaning, reconditioning and effluent disposal costs associated with stainless steel tanks are eliminated by the A330.
Risk of contamination is reduced because the A330 is equipped with a liner bag that provides an added level of product protection.
Replacement plastic parts are more economical and reduce maintenance costs.
The A330 Shipper™ vs. Plywood Bag-In-Box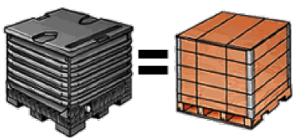 The plastic composite construction of the A330 delivers a much longer product life versus plywood containers.
The A330 is easier to set-up and knock-down, reducing operator handling costs.
The A330 is superior to plywood IBC's because it is easier to clean which improves sanitation and reduces risk of contamination and insect infestation.
The A330 Shipper™ Steel Frame Rigid Wall Knockdown Bag-In-Box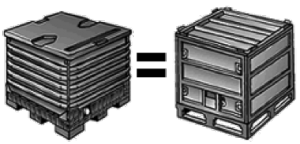 Lower tare weight of A330 reduces shipping costs.
Cost of ownership or rental is significantly lower for the A300 Shipper™.
Plastic composite construction of A330 makes cleaning easier with reduced maintenance costs.
Plastic construction eliminates hazards associated with rust and corrosion that can occur with steel frames.
The A330 Shipper™ Vs. Steel Frame Flexible Knockdown Bag-In-Box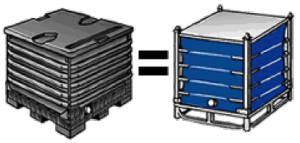 Reduced set-up and knockdown labor costs for the A330.
A330's lower tare weight means lower outbound shipping costs.
The A330 is easier to clean with reduced maintenance costs
Rigid plastic container walls of the A330 provide greater product protection during handling, storage and transportation.
Cost of ownership and rental is significantly lower for the A330.
Issues with rust or corrosion are eliminated by the all-plastic construction of the A330.
The Arena A330 Vs. Corrugated Bag-In-Box

A330 renders much lower packaging cost.
Eliminates need to landfill 80 lbs of corrugated waste.
Corrugated requires additional pallet versus integrated pallet design of A330.
A330 is cleanable and reduces risk of contamination and insect infestation.
Reduced labor costs for set-up and knockdown of the A330.
Plastic composite construction of the A330 is not subject to water or high humidity damage that is a concern for corrugated.
The A330 Vs. Bottle-In-A-Cage Intermediate Bulk Container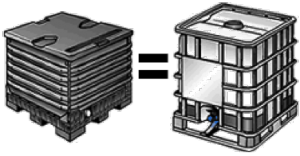 Packaging costs are markedly lower for the A330.
A330 Shipper™ delivers a longer life span.
Lighter weight and collapsibility design lowers freight costs.
A330 utilizes a virgin liquid liner each trip which protect product integrity by minimizing risk of contamination.
Recyclable plastic composition of the A330 greatly reduces solid waste and disposal labor if the intermediate bulk container is not reused.
Lower cleaning, inspection, maintenance and repair costs for the A330.
Need More Information? Contact Us Today!