The Best Intermediate Bulk Container (IBC) On The Market
There are many companies that manufacture intermediate bulk containers in a multitude of compositions, configurations and capacities. The Arena A330 Shipper™ is like none of them. The A330 Shipper™ is recognized by packaging professionals worldwide as the premier liquid IBC available on the market today.
The Arena A330 Shipper™ is specifically designed to handle the unique dynamic stresses associated with liquid loads during handling and transport. Liquid loads exert greater kinetic energy than dry bulk loads. When liquid products are moved or transported, sudden motions or abrupt stops can cause liquid loads to shift, placing greater stress on an IBC. Conventional intermediate bulk containers can fracture or break under such pressures but the A330 Shipper's unique design absorbs and flexes in response to the stress demands with a greater strength-to-weight ratio than steel.
Download Product Literature
The IBC Designed For Function and Economy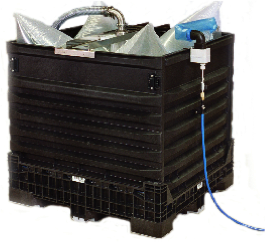 The Arena A330 Shipper™ represents a revolutionary break-through in liquid IBC's. It is comprised of rugged, damage-resistant plastic composites that were developed for the automotive and aerospace industries and it has a greater strength-to-weight ratio than steel. The Arena A300 Shipper™ has a higher rating than dry bulk IBC's and is able to handle loads up to 3,000 lbs. versus only 1,800 lbs. for conventional intermediate bulk containers.
The Less Space, Less Waste IBC
The Arena A330 Shipper™ delivers superior performance when measured against competitive containers such as 55-gallon drums, tank-style IBC's and disposable intermediate bulk containers. With its unique knock-down design, disposable liquid liner and space-saving shape, the A330 Shipper™ maximizes space and reduces waste. It has been designed and tested to withstand the physical demands of rail car and tractor trailer transport with footprint dimensions that fit perfectly into trailers without additional dunnage.
The A330 Shipper™is the first choice of high value liquid product manufacturers because of its long track record of maximizing profit by reducing risk of damage or accidents. It is an environmentally green product because it is a reusable IBC that has a documented longer life span, another factor that contributes to its overall economic value.

More Sale Or Lease Options Than Other IBCs
Short term, long term or value-added rental programs (Trip Lease) are available that makes the Arena A330 Shipper™ the best choice in liquid intermediate bulk containers. Customers can manage and utilize their totes with optimum efficiency thanks to options that include logistics management, tracking, tote bag replacement and online reporting.
No Other Liquid IBC Offers More Features & Benefits
All Plastic Construction
Durable and easy to clean
No reconditioning required
Won't splinter, rust or harbor contamination
100% recyclable
Bag-in-box packaging
1-, 2- or 3-ply liner bags
Eliminates flushing and effluent disposal
Eliminates cross contamination
Permits aseptic filling and discharge
Reduces waste disposal
330 gallon or 45 cubic feet capacity
3000 lb. Liquid capacity
3,500 lb. Bulk solid capacity
The contents of six 55-gallon
drums in the space of four
The largest plastic collapsible container
Collapsibility
5 to 1 return ratio
154 empties in a 45 ft. trailer
Snap-in-place latches
Substantial cost savings on return shipping
and storage savings
Sets up and knocks down in seconds
Low tare weight of 175 pounds
Increased net shipping payload
Outside dimensions
45" x 48" footprint; 45.5" high
Inside dimensions
41.5" x 44.5" x 40.5"
Corrugated walls add to capacity
78% external volume contains product
Four-way fork entry
10" x 3.5" fork pockets
8" wide center feet
Easy handling with most common
Fork-lift equipment
Five-high stacking
Improved storage space utilization
Snap-on cover
Protects contents from contamination
Vertical banding recommended in some applications
Replaceable skid pads
Two-inch (2") bottom discharge
Quick, easy liquid discharge
Specifications
In-use dimensions (Inside)
Length: 41.5" (1054mm)
Width:  44.5" (1130mm)
Height: 40.5" (1029mm)
Tare Weight
175 lbs. (79.4 kg)
Collapsed dimensions
Length: 45"   (1143mm)
Width:  48"   (1219mm)
Height:  14.7″  (373 mm)
Return ratio
3.5:1
Internal volume
330 gallons (1250 liters)
44.4 cubic feet
78% space utilization
Truckload capacity
Full boxes: 44*
Empty boxes:  154**
Fork Pocket Dimensions
4-way entry pockets
Width:  10" (254 mm)
Height:  3.5"  (89mm)
*Based on Arena 330 Shippers stacked 2-high in a 45-ft trailer.
(Weight of contents and payload not included)
** Based on Arena 330 Shippers collapsed in a 45 ft. trailer.
Need More Information? Contact Us Today!