Wide Range of IBC & Liner Accessories
Arena Products supports all of our intermediate bulk container (IBC) accessories and liner products with a diverse range of accessories that can be adapted to many different filling and discharge applications. We can customize configurations that match your processes including exact length hose sizing and matching of fitting diameters to your unique hook-up needs.
All of our intermediate bulk container accessories and liners are designed to work within your existing processes and help your operators to be safe and efficient. Every accessory we offer makes it easy for you to use the IBC's and liners we sell.
Arena maintains a large inventory of IBC accessories and IBC liner accessories to meet regular and unexpected customer demands with expedited shipments available on request.   Our sales and technical support group is always available to answer questions and troubleshoot any problems customer may experience.
Liner Filling System and IBC Accessories
Arena Products supplies a broader scope of filling system accessories that are compatible with filling applications that range from simple to complex. Standard fitment sizes with quick-connect couplings and hose diameters are available as well as custom lengths and fittings for unique process applications.
Hose Assemblies Configured To Your Specifications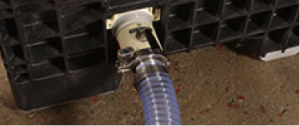 Hose assemblies for filling and discharge operations are available in a variety of valve, fitting and user-specific lengths. Both cam locks and tri-clamp connectors are readily available for easy integration into your existing system.
IBC/Liner Fittings, Adapters & Valves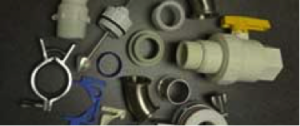 Arena maintains a large inventory of fittings, adapters and valves that are available in food grade, sanitary and stainless steel with 2 and 3 inch bag sealed filling fitments.
IBC/Liner Fittings, Adapters & Valves
Arena maintains a large inventory of fittings, adapters and valves that are available in food grade, sanitary and stainless steel with 2 and 3 inch diameter being the most common.
Quick-Snap Bottom Cap Pullers
This IBC accessory snaps onto the bottom drain fitment before the bag is dropped into the A330 intermediate bulk container which makes it simple and easy to pull the bottom drain fitting into position and lock it securely in place.
Intermediate Bulk Container Liner Discharge System Accessories
Arena Products carries in-stock a variety of discharge valve and membrane cutting devices suitable for both food and chemical processing applications. Discharge valves are primarily attached by the end-user to empty the contents of the container.
Spanner Bars Increase Liquid Liner Discharge  Performance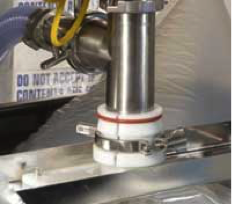 Use of spanner bars increase discharge performance and simplifies operation. It allows for partial discharge of a container without a valve hanging off the tote. It can then be placed in inventory or shipped easily.
Arena offers a variety of spanner bar styles compatible with top discharge systems using 2 and 3 inch fittings in conjunction with dip tubes or stick-style pumps. They are durable for long-life and easily cleaned. Custom designs are also available.
Pump Up Your Liquid IBC & Liner Productivity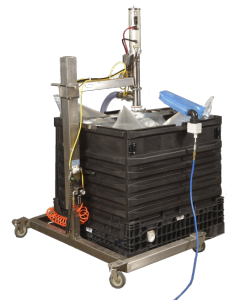 The Arena Starfish™ pump is a powerful addition to the Arena 330 Shipper™ System and maximizes the performance of the Starfish™ Air-Evac® liner. Key benefits include:
Adds automation that increases your process productivity.
Safe and gentle pumping technology improves product consistency.
Strong, steady flow rate without product or particulate shearing.
316 Stainless steel construction simplifies clean-up.
Lift mechanism is easy to operate and reduces risk of injury.
Tool-free design for quick set up, disassembly and changeover and cleaning.
Top Discharge Simplified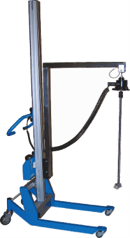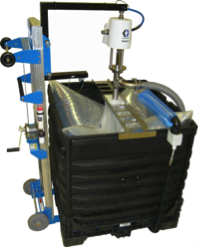 Arena Products offers two lift accessories that makes positioning of top discharge pumps and mixers an easy-in, easy-out one person operation. Features include:
Powered by a 24 volt DC rechargeable battery which eliminates the need for hazardous electrical cords, power outlets or compressed air to operate lift.
Improves operator performance and efficiencies
Reduces accident hazards and related costs.
Dynamic Bin Evacuation (BES) Accessories
For higher viscosity products, Arena offers a bin evacuation system (BES) that simplifies operation and maximizes performance. A single-ply, open-top bag is used. Proprietary liner clamps lock the bag to the Arena 330 Shipper™ on all four sides. The tote is then positioned under the BEC plate which is pressed into the product, creating pressure in the tote to force product into the pump.
Simplified Bag Wringer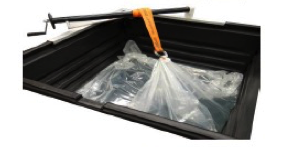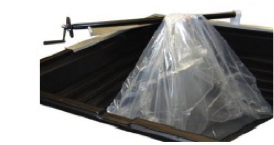 Arena's affordable bag wringers allow for simple and easy manual manipulation of the liquid liner to deliver the lowest possible residual of highly viscous or thick products. It features a powerful, 5:1 ratio with a self-stopping ratchet that helps moves loads with ease.
Bulk Liquid Liner Bag Clamps Lower Residuals
Our versatile bag clamps allow you to secure the bag to the side of the Arena 330 Shipper™ above the bottom drain outlet. This creates a pool of material around the bottom drain outlet that more effectively facilitates complete product evacuation.
A Broad Range Of IBC & Liner Support Equipment
Arena integrates its IBC accessories and products into processing systems with a wide range of customizable support equipment that include pump lifts, mounting systems and quick change-over options. Engineers in our technical support group at are available for consultation and assistance on request.
Need More Information? Contact Us Today!