A Highly Efficient Bottom-Discharge IBC Liquid Container Liner System
The Air-Evac® Blowfish™ liner is another of Arena's innovative flagship products and it is recognized in the liquid shipping container industry as the superior liner of its type for maximizing efficiency and lowering costs. When used in tandem with the Arena A300 Shipper™, the Blowfish™ liner delivers key advantages over competing bottom discharge liners, especially for companies manufacturing high viscous products that range from 20,000 to 150,000 centipoise. For viscosities exceeding this range, Arena has engineered methodologies that are proven effective in minimizing discharge residuals.
Top-Discharge Liquid Container Liner System Advantages
The Arena Air-Evac® Blowfish™ liner is essentially a hands-free, automatic system that reduces labor costs associated with wringing, scraping or cleaning bags as is common with competing bottom discharge liner products. Operators no longer have to struggle with bags by manipulating or hand-pulling them to eliminate product. This advantage reduces the chance of liner damage and the subsequent risk of product contamination. The Blowfish™ liner system operates on standard shop air and its dual-membrane design prevents air from coming into contact with the product, further minimizing risk of contamination.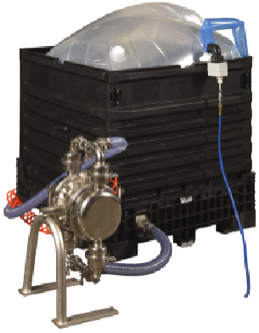 Other Liner Products:
Superior To IBC and Drum Liners For Liquid Packaging Applications
The Arena Air-Evac® Blowfish™ liner system is more advanced and efficient than antiquated barrel liners and current intermediate bulk container liners on the market. The patented geometry of the Blowfish™ liner facilitates a faster, easier discharge than conventional bottom discharge liners. Set-up an operation can be performed by one person start-to-finish in less than 60 seconds. When product flow begins, the cassette design allows it to fill evenly and consistently from bottom up which eliminates product foaming issues.
Compatible With Current Manufacturing Processes
The Arena Air-Evac® Blowfish™ liner system is compatible with most bottom-discharge manufacturing processes currently in effect. This benefit minimizes manufacturing process change, an important advantage to companies focusing on minimizing disruptions associated with conversion to alternate discharge systems. The polyethylene construction is tough, yet flexible and can be configured to your unique products and applications.
Arena Air-Evac® Blowfish™ liners have been tested and approved for a broad range of product viscosities and discharge rates. They meet all appropriate agency approvals. All FDA approved materials are used and the finished liners meet Kosher, IMS (Intermediate Milk Shipping) and USDA standards.
Certifications are assured. Arena liquid shipping container liners are manufactured in a third-party registered facility. The Food Safety Management System is certified to ISO22000:2005 and cGMP and design are certified to PAS223:2011 for the manufacture and provision of food packaging. Arena liquid container liners come with a variety of fittings in sizes, styles and colors that can be custom ordered to meet your company's requirements.
How The Air-Evac® Blowfish™ Liquid Liner System Works: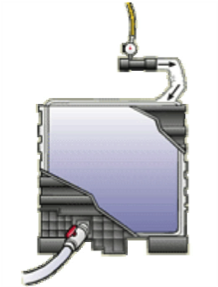 FAST, EASY DISCHARGE
Connect bottom discharge hose, remove the Arena 330 Shipper™ or other container cover. Connect the air regulator to the blue Air-Evac® inflation tube. Turn on the air and walk away.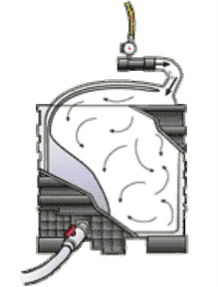 LINER INFLATION
As product is pumped out, the automatic air delivery system replaces product volume with regulated air, inflating the airchamber in the Air-Evac® bag.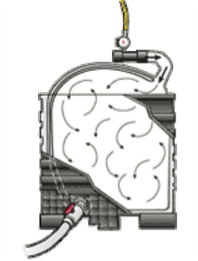 FINAL EVACUATION
When the Air-Evac® bag is fully inflated, the air delivery system shuts off automatically. At this point, the amount of product left in the bag will be at an absolute minimum.
Arena Air-Evac® Blowfish® Liquid Shipping Container Liner Specifications
3-Ply LLDPE standard
Food contact per 21 CFR176.170 Conditions D through G
Kosher
Cassetted with slip sheet
Maximum fill volume: 330 gallons (when used with Arena A330 Shipper™)
Tare weight of bag: 6.5 lbs. (3 kg)
5 per box – 60 per pallet
Air requirements: shop air @ 60-80 psi input
Manufactured with a cGMP, ISO22000:2005 & PAS223:2011 certified process
Made in USA
Available with 2 inch and 3 inch standard fitments
Need More Information? Contact Us Today!