Industry Leading IBC Liquid Container Liner Solutions
Arena Products' liquid liners are recognized by packaging professionals as the most innovative, user-friendly liners on the market with proprietary, patent-protected designs that lead the industry in key performance metrics.
Technical Innovation In Shipping Container Liner Engineering
Arena Products' dedicated engineering teams have developed game-changing IBC liquid shipping container liner solutions that deliver a level of product performance and process continuity that is unmatched in the liquid packaging industry. Arena intermediate bulk container (IBC) liquid shipping container liners have a well documented record of improving process efficiency, lowering labor costs and delivering consistent, maximum product recovery. Arena IBC tote liners render the lowest residuals, including exceptional recovery of highly viscous products. Arena IBC liners make start-up and operation simple, quick and safe.
Unmatched Intermediate Bulk Container Liner Quality
Liquid packaging professionals credit Arena IBC liners for uncommon excellence in product quality and reliability. From process start-up to completion, Arena liners maintain product integrity while allowing for faster set-up and use. Arena liners are certified and approved for their specific applications by the most recognized regulatory authorities and are backed by more than three decades of experience in the liquid shipping and handling industry.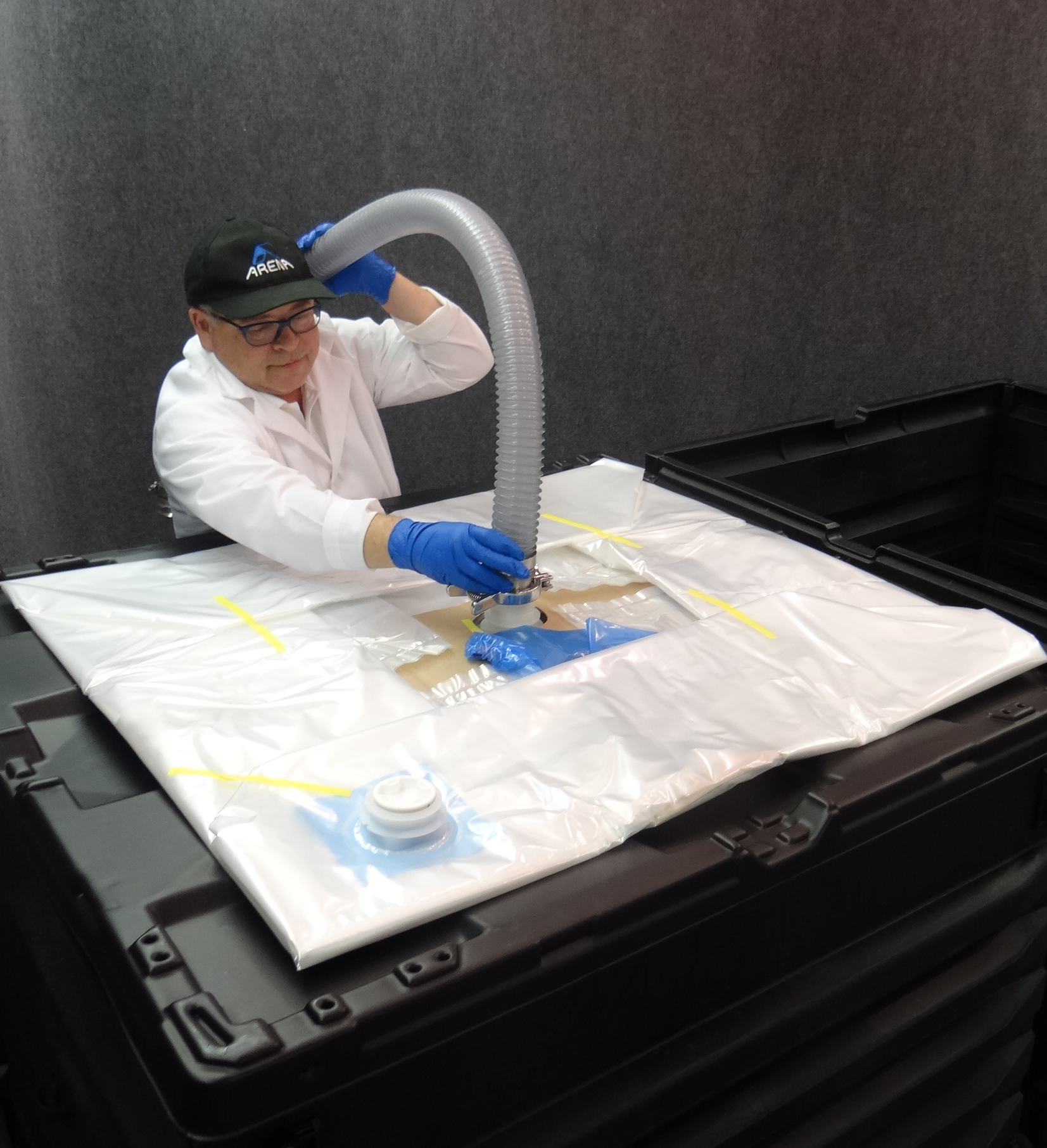 Download Literature
Other Liner Products:
Trusted, Responsive IBC Liquid Container Liner Support
Arena Products mission to continually drive innovation is not just limited to our advanced intermediate bulk container liner products. The level of post-sale support we provide our customers is one of our most differentiating hallmarks. We offer the shortest lead time in the industry and maintain stock levels sufficient to meet both regular and unexpected customer needs.
When time is of the essence, Arena can accelerate delivery to meet critical customer needs. Our customer service and technical teams are available to answer product inquiries with documentation requirement assistance.
Arena IBC Liquid Container Liners Come In A Variety Of Configurations
Arena Drop-In Cassette Liner Systems reduce filling time by eliminating extra, labor-consuming preparation. Our polyethylene liners are tough yet flexible and can be configured for specific materials or applications.
Styles: Liquid liners are offered in a variety of configurations starting with pillow or fitted style, and open top.
Plys: We can vary the number of bag plys according to customer needs; 1-, 2-, or 3-ply bags are available.
Barrier Films: This is a great option for products that are sensitive to moisture or oxygen sensitive. Liquid liners supplied can be configured with films that will give the exact barrier properties to meet your application.
Agency: Liquid liners supplied by Arena Products meet appropriate agency approvals. All FDA materials are used, and the finished bags meet Kosher, IMS (Interstate Milk Shipping), and USDA standards.
Certifications: Arena Products liquid liners are manufactured in a third party registered facility. The Food Safety Management System is certified to FSSC22000:2015 for the manufacture of plastic liner bags for use as primary packaging in the food industry.
Fittings: A variety of fitting sizes, styles, and colors can be ordered to meet your company's requirements.
Need More Information? Contact Us Today!