Packaging Innovation, One Customer At A Time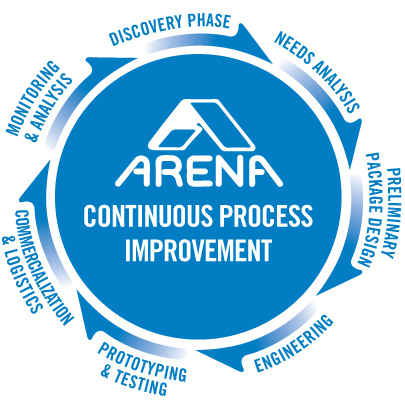 Most packaging companies define themselves by the range of products and services they offer. At Arena Products, we see our value to customers through a different lens, one focused on customizing solutions and systems as unique as each company we serve. Our ability to innovate the bulk packaging industry's most advanced shipping container products and services stems from our proven, in-depth knowledge of their industries and processes.
At Arena, the products and services we offer are just part of our consultative, problem-solving approach to improving our customer's process flows and profitability. We know from 30 years of bulk packaging industry experience that products and services alone are not always the answer. To understand your true needs, we take the time learn your manufacturing processes from start to finish so we can identify problems both seen and unseen.
Arena's wide range of shipping containers, accessories, products and services are engineered to meet or exceed most of the critical packaging challenges we encounter. When our teams probe and uncover the need for something not currently available, we go to work and innovate new solutions.
Innovation By Design
As an experienced and proven developer of customized, reusable transport packaging systems, Arena Products uses an integrated approach to the development of shipping programs.
The development of these custom solutions is all encompassing and detail driven, as it follows a product from the initial design through engineering and commercialization to monitoring and analysis.
The development process has many steps, each of which builds off the previous one. It begins with the discovery and needs analysis phase, where, by working closely with the client, the requirements for the product geometry and performance are established. In addition, use scenarios are developed that aid in maximizing efficiency and sustainability. Moving forward, the product is moved into the preliminary package design stage, where the design is engineered using the latest CAD technology.
Our Bulk Packaging Products Are Thoroughly Tested
After the full design and manufacturing development process is complete, the prototype is moved to Arena's state-of-the-art Transportation Packaging Lab, where it is put through rigorous testing to ensure durability. After this stage, Arena begins product manufacturing followed by commercialization and logistics.
When the development process is complete, the product is monitored and the results analyzed. If the product does not meet the initial needs and requirements determined at the initial development stage, the entire process is repeated until a solution that meets the customer's needs is realized.
Need More Information? Contact Us Today!